GrateDrain™ Drainage Systems Installed in Youngstown & Boardman, Ohio
When it comes to keeping your basement dry, nothing is as efficient as a full-perimeter drainage system to keep ground water from reaching your basement floor. There are a lot of copycat drainage systems out there and choosing the most reliable one can be challenging. That is why Ranger Waterproofing uses the GrateDrain™ Drainage System, the most advanced technological basement water control system available on the market.
What is GrateDrain™?
GrateDrain™ is a dual chamber system that is designed to accept groundwater faster than any other drainage pipe on the market, it is placed just under the floor in front of the footer. Designed with large dual chambers, GrateDrain™ directs groundwater from beneath the basement floor and the wall/footing joint to the sump liner. The GrateDrain™ is also a versatile product because it fits basements of all sizes.
GrateDrain™ is custom-built for every basement
Isolates iron bacteria colonies to prevent cross-contamination
Easily accessible covers and panel access for system flush
Install GrateDrain™ in Your Basement!
With the GrateDrain™ installed in your home, it will be easy to keep your basement dry and free from water-related damages. Visit our contact page here for a FREE ESTIMATE. We also offer various basement waterproofing services, crawl space protection, and moisture control.
Contact Ranger Waterproofing for GrateDrain™ Drainage Systems Installed in Youngstown & Boardman, Ohio
All of our services and products are available to those situated in the areas of Boardman, Youngstown, Canfield, and other cities within our Ohio and Pennsylvania service areas.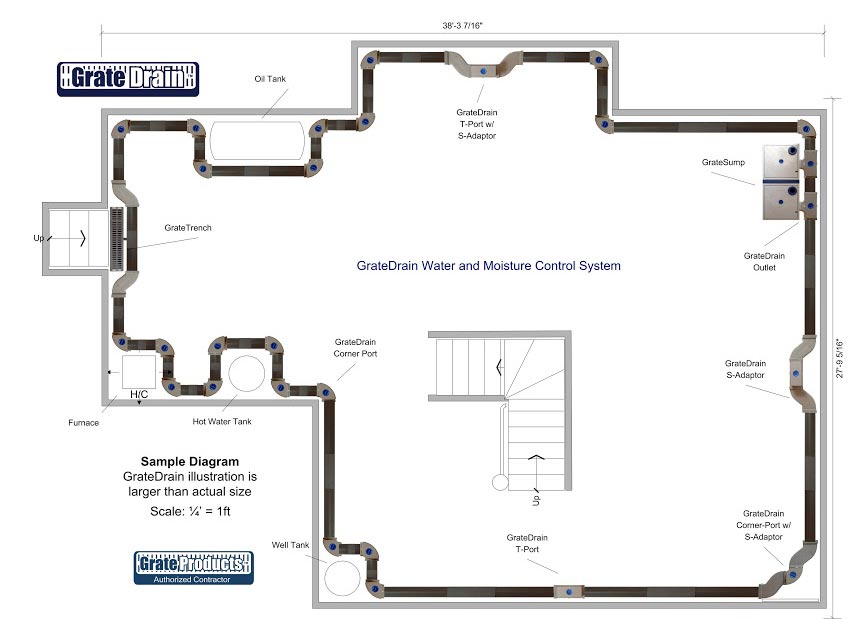 Ranger Waterproofing Service Area
Ranger Waterproofing has a vast service area including Columbiana, Youngstown, Boardman, and Pittsburgh. See the list of cities that we cover
Trust Ranger for a Healthy Basement or Crawl Space!