Crawl Space Vapor Barrier
Crawl Space Vapor Barriers and Encapsulation in Boardman, Youngstown & Canfield
Crawl spaces are located underneath your home, so the chance of getting a water runoff is quite common. Unfortunately, a common design choice for crawl space floors happens to be dirt, so if left alone for too long, they can become a bad breeding ground for mold.
Installing a vapor barrier provides the crawl space with a moisture protection layer to protect the structure from the negative effects of moisture such as mold, floor failure, increased electricity costs, odors, insects, and dust mites. Moisture effects can also cause or worsen conditions such as asthma, hay fever, and or other allergies.
Vapor Barriers
A vapor barrier is a kind of material that's used to resist moisture from entering through the wall, ceiling, and even the floor. Essentially, a vapor barrier's job is to create a layer of protection between your home and the dirty crawl space beneath it. It's also useful as an energy-saving method so you can lower your heating bills while ensuring that your home feels more comfortable.
Here at Ranger Waterproofing, we recommend having the CrawlShield Encapsulation System installed in your crawl space. You'll have the best crawl space application on the market, with noticeable results on every level of your home!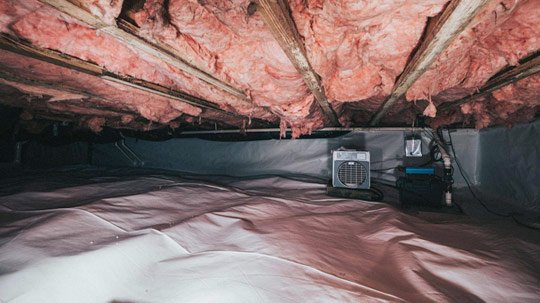 CrawlShield Encapsulation Advantages
Fast, clean installation
Eliminate mold and mildew from the air in your home
Patented and warrantied products
Utility bill savings
Added storage space
Healthy Basement and Crawl Space Certification for qualifying systems
Added benefits when using with crawl space dehumidification system
Ranger Waterproofing Service Area
Ranger Waterproofing has a vast service area including Columbiana, Youngstown, Boardman, and Pittsburgh. See the list of cities that we cover
Trust Ranger for a Healthy Basement or Crawl Space!